Well my weekend of MCing the Mystical cybercrop has gone well....lots of people into the challenges, although I will HAVE to make them harder next time, or introduce a one handed scrapping policy. These are my CC layouts...
My take on the leap year challenge....
This was for the Patron Saint challenge...Saint Anthony rules at our house!!
Baby Jessica starring in the Use Your Stash Challenge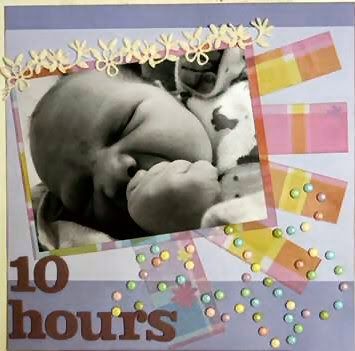 The OTP challenge, which was make and decorate a noodle box....quite enjoyed this one, and pretty happy with the result!!
My take on the "Mystical Scrapjack", the original layout is Wendy's.
Have also started on my OTP kit which I recieved last week...it's a scrapworks MDF handbag, which is really stretching my creativity, I've painted and covered it, it's pink and girly and I LOVE it!! Now all I have to do is sew it together...hmmmm.
When it's finished it'll have a mini album in it, probably featuring one of my neices, since there's a distinct lack of girls at Casa Hartwell!!
As far as the rest of my life goes, things are running pretty smoothly ATM.
Kit has really enjoyed his introduction to High School, and is getting used to using his laptop for most classes. He rings me as he leaves school to walk home, and then rings me again when he gets to the bottom of the street, so I can come out to meet him :) The homework has started at full strength, so he's going to be a busy boy!!
Sebi has settled straight into grade 3, and is enjoying being one of the "bigger boys" in his composite class. We have booked our tickets for Canberra and the Folk Festival, it'll be a real adventure for the boys. Ok have to cut it short now, as this post is practically in another time zone!!! Thought I'd finish with a pic of Sebi flying high on the jumping castle at Fusion yesterday.
Luck hugs xox