This fortnight's colour challenge is Red, Black and Cream, posted (slightly late, whoops) by yours truly....and here's my take on it. The wings were originally a very pinky pink, but I inked them with brilliance "rocket red" then painted them and punked them up with black staz on and kaiser bling.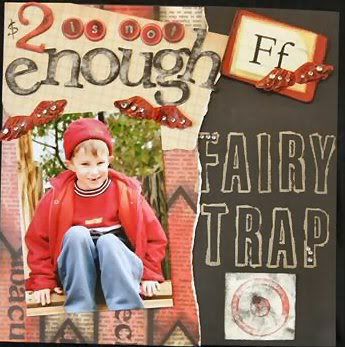 Apologies for the slightly squiffy photo... I think my scrap room's on a slant!!
I'm getting pretty much back into the swing of things after a rough fortnight, and my mojo is starting to kick in again. Stress and scrapping SO don't mix!!
Next on my list is the White with 1 challenge...this is Susan's new challenge blog, which is going great guns ATM....see it
here
...
and then I have the WDY challenge which is due tomorrow (yikes) nothing last minute here folks. This time it's BLING which is NOT my strongest point, so methinks I'll be searching for some inspiration this afternoon. Then there's just the 123 challenge and Aussie scrapjack, and I'll be up to date!!!!